Everyone will like to be in comfortable and productive conditions. Putting your miter saw on the ground and making cuts may work for you. But it is a pain especially when you need it more often and with large lumbers.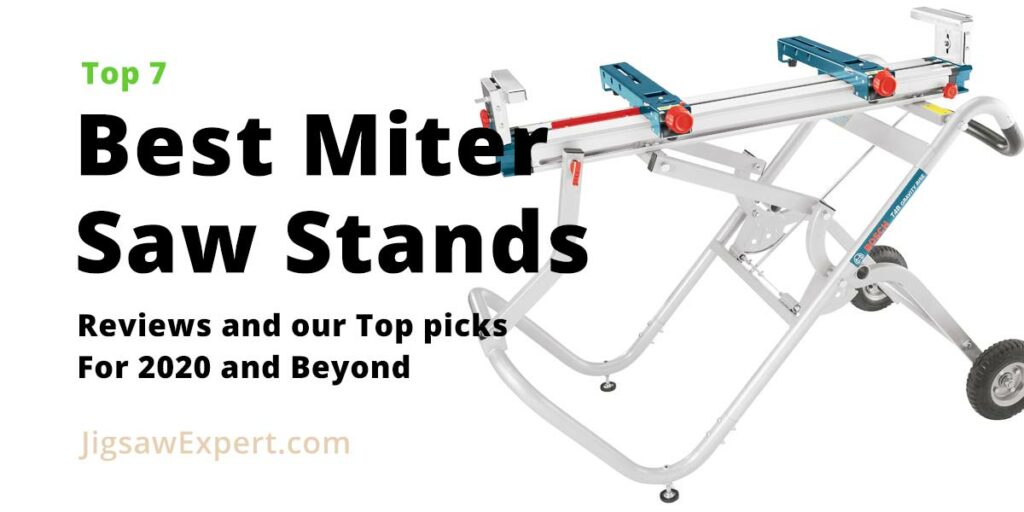 Besides, if you are using heavy-duty tools, a stand can be a very important thing to have. However, table saw & miter saws happen to benefit more from them compared to other tools. With a good place and a good stand, you can be confident of resting your miter saw in a safe area in your workshop, and you can easily fold it away when you are done working with it.
BTW, if you are in a hurry, and need to know about the top-rated stand without reading the whole document content. Then, we recommend you chose the 4TB Stand by Bosch, as out of all 7 stands, we got that it is the best one of them, and hopefully you'll also find the best for your work. Because it is the best value for the money with a lot of features that almost everyone will love to have.
Adding comfort and increasing your productivity, you'll need a proper miter saw stand. There are a lot of stands, and how to chose the unit that is best for you depends on many factors, like its weight and material supports capacity, saw compatibility, weight, stability, price, and stand size including folded size.
I've compiled a list of the top 7, miter saw stands in the market for 2021.
So without wasting more of your time, let's get started.
BTW, I am using affiliate links in the content of this article. If you buy any unit for your workshop, I may get a commission from a qualifying purchase.
Best Miter Saw Stands 2021 Comparison table
No products found.
The list is rated from top to bottom, i.e. The top ones are better than the bottom products based on our analysis and users experiences.
1. Bosch T4B – The Best One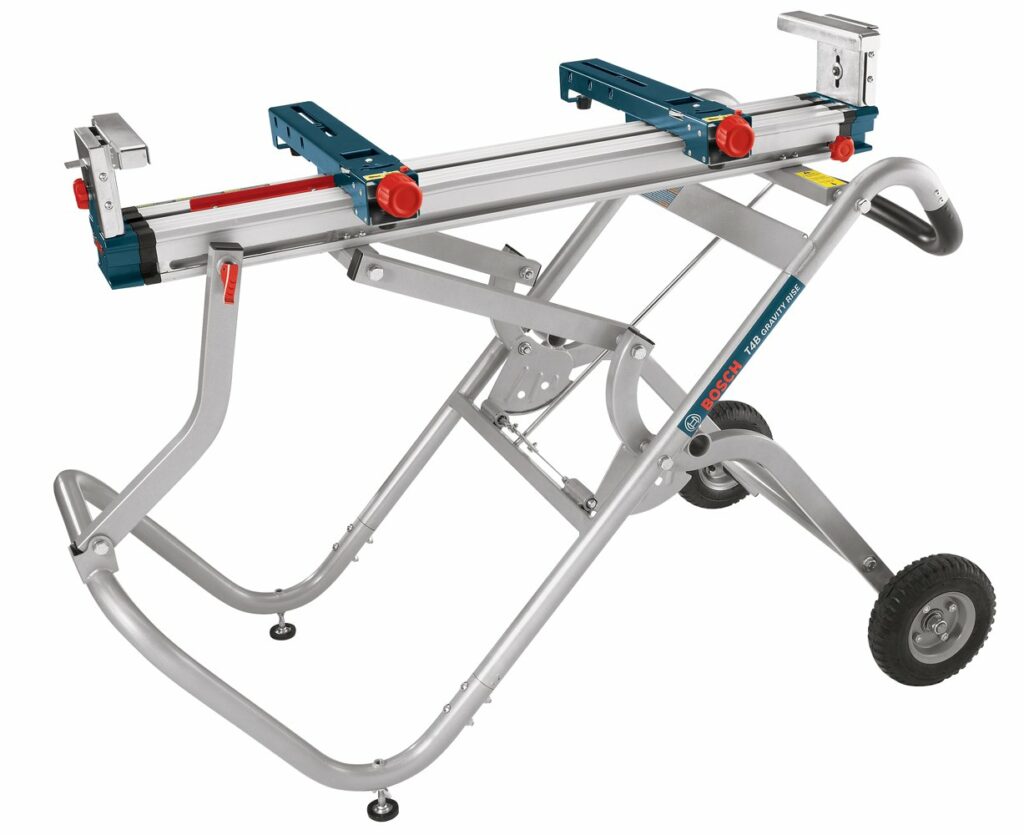 The Bosch T4B Gravity-Rise miter saw stand is our best choice of all miter saw stands. Because of its excellent features, durability, and user experience. It is portable, i.e. You can carry it wherever you want without taking off your miter saw. This stand has 8″ pneumatic wheels that'll help you move around quickly and easily.
Check the Bosch T4B Gravity-Rise miter saw stand in-dept review.
The Gravity-Rise system makes it easily adjustable. It helps in quick and easy setup and break down. This "patented" system is available exclusively for "Bosch".
The adjustable feet make it easy to use and stabilize on uneven surfaces.
Main Features of T4B Bosch
It has an exclusive "Gravity-Rise System" designed for quick setup and breakdown.
It has up to 18 feet in length of material supports capacity. I.e. No other portable miter saw stand has this feature.
It has 8-inch rubber wheels for easy transport around Jobsite terrain with an attached miter saw.
It has the Universal Mounting Brackets System, so you can mount any miter saw you like.
It has an adjustable height infeed and outfeed.
Mostly made of steel, having 91.6 pounds of weight.
T4B Bosch – Pros & Cons
2. DEWALT DWX726 – With Wheels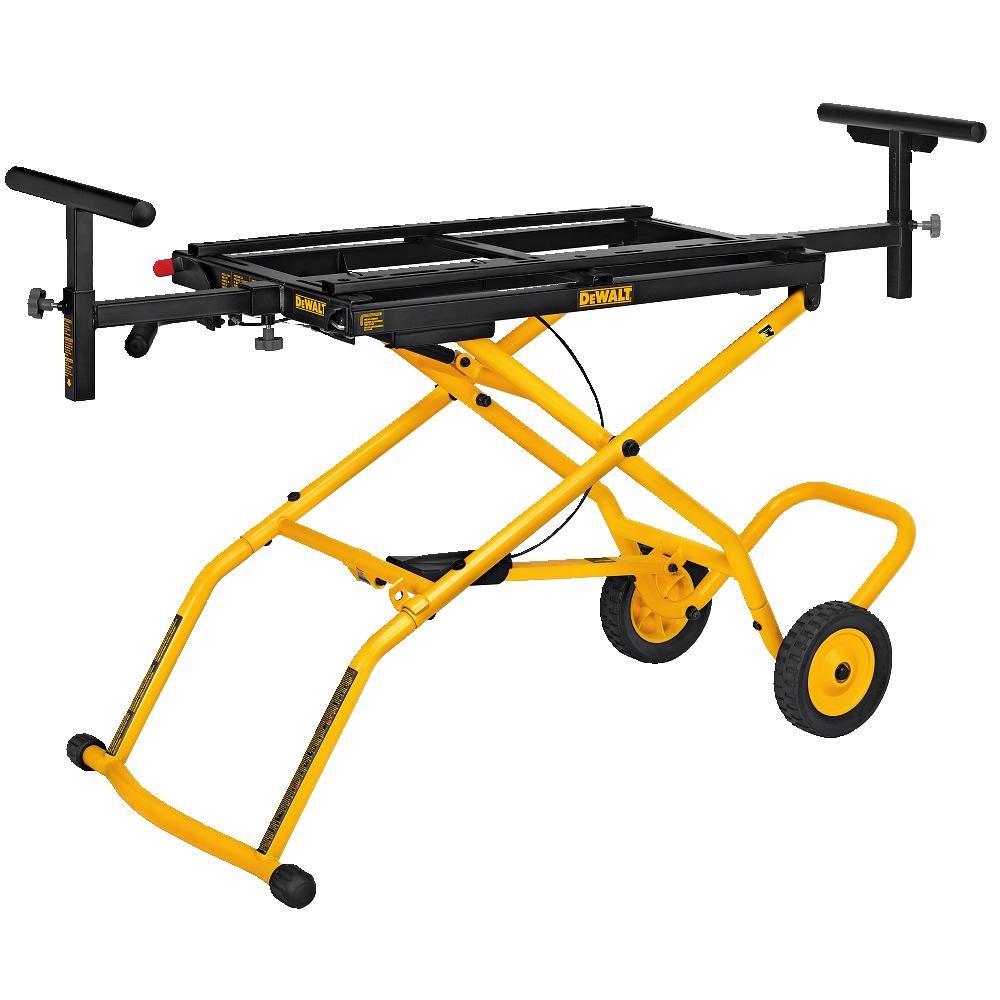 DeWALT has some of the best miter saws in the market. So making stands for their products that are durable and powerful is necessary.
This DeWALT stand has some impressive features. Like it is universal, i.e. it is not just for DeWALT miter saws, but can also be used for other brands. It has wheels for easy Jobsite transporting and is totally steel construction that can withstand about 300-Pound maximum capacity. etc.
Check the DeWALT DWX726 in-depth review.
The "Material Capacity" is lower than "T4B Bosch", i.e. it is 8 feet only. But it won't bother you if working with standard 2×4. I think it is the closest to the Bosch T4B stand.
Main Features of DEWALT (DWX726) Miter Saw Stand
It is universal, i.e. this miter stand is for all miter saw brands.
It has wheels for easy Jobsite mobility.
It is a foldable miter saw stand.
It is made of tubular steel, that can withstand up to 300-pounds of weight.
It has 3 position pneumatic assisted raising and lowering.
It weighs about 25 pounds only.
DEWALT (DWX726) Miter Saw Stand – Pros and Cons
3. DEWALT DWX723 Miter Saw Stand (no wheels)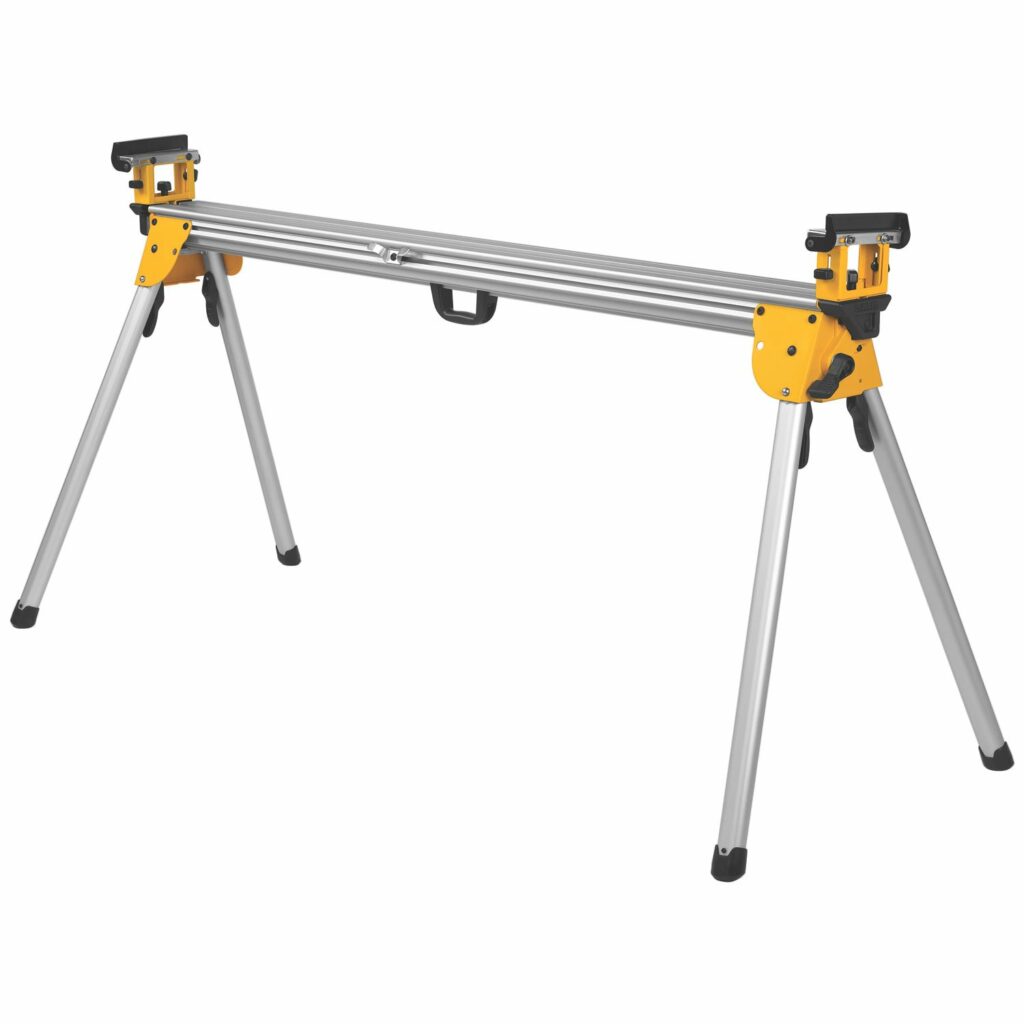 If you are looking for an affordable yet powerful DeWALT stand that you'll stick to one place, the DeWALT (DWX723) is the one to choose. It is made for professionals that do not require the miter saw to move around but need a heavy-duty stand.
It is a foldable miter saw stand. It is made of lightweight aluminum construction so you can carry it around easily. The DeWALT DWX 723 has up to 16 feet in length of material support capacity and up to 500 pounds of capacity in weight. It also has non-marring feet to avoid scratching.
Check the DeWALT DWX723 in-depth review.
The one thing that makes it difficult is the Miter Saw mounting. It is awkward mounting and removal of the saw from the mounting brackets. Otherwise, it is one of the best stands.
Main Features of DEWALT DWX723
It has up to 16 feet in length of material support and up to 500 pounds in weight capacity.
The construction material is a lightweight aluminum construction.
It is a foldable miter saw stand. The folded tool width & Height is 70×6 inches.
It is a universal stand. i.e. You can fit any brand miter saw on it.
DEWALT (DWX723) – Pros & Cons
4. BORA Portamate PM-4000 – Heavy Duty Folding Stand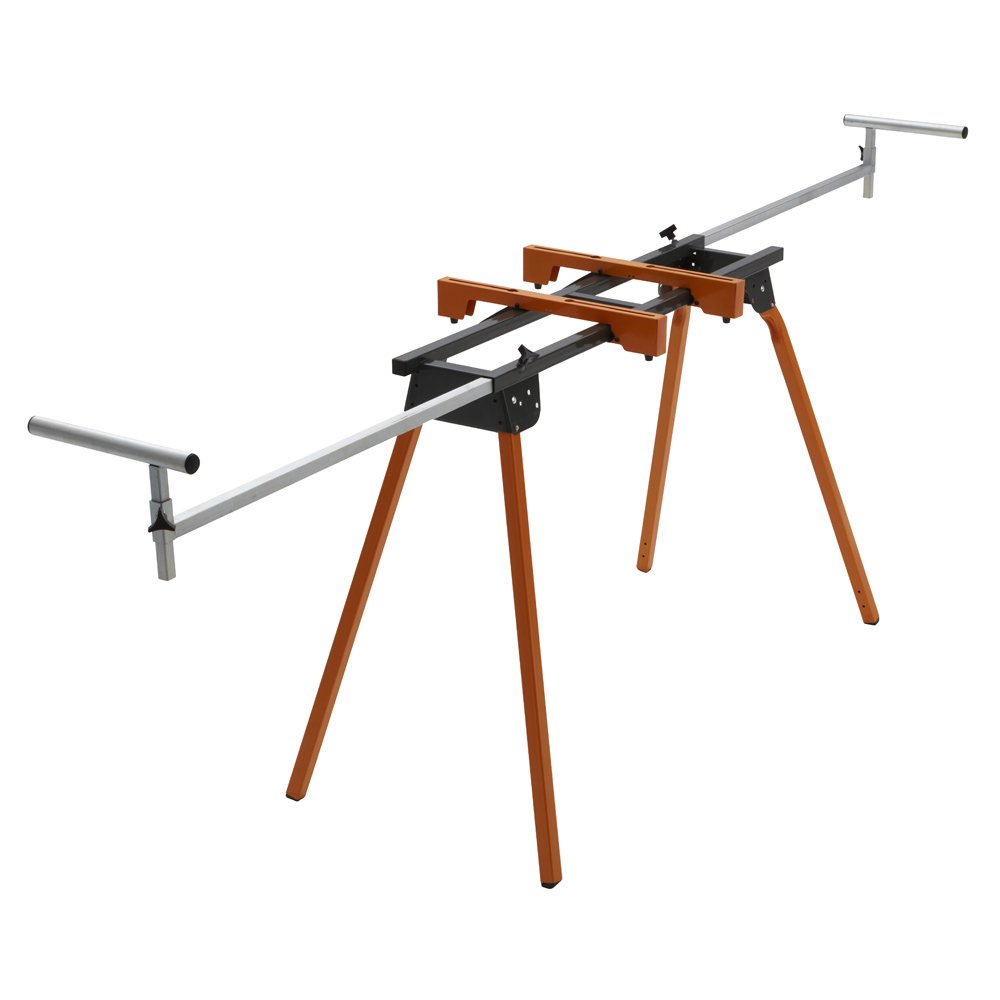 The Portamate miter saw stand is the best combination of high quality and low price. It is strong enough to support up to 500 pounds of weight and can support up to 10 feet in length of materials.
This stand comes with no height adjustment, but its height works for most of us and is about 36 inches high. The stand can be carried easily as it weighs about 30 pounds only.
Check the in-depth review of Bora Portamate PM-4000 stand.
If you need wheels for easy transport, you can get a wheel kit which this stand can support from amazon.com.
Main Features of BORA PM-4000 (Portamate)
The best combination of high quality and low price.
Support up to 500 lbs of weight and 10 feet length of material.
Weighs about 30 pounds only.
It can be upgraded with the PM-4004 dual wheel upgrade kit.
Universal Miter Saw Stand.
It is a foldable stand.
Quick Setup & Takedown
PM-4000 – Pros & Cons
5. POWERTEC MT4000 Deluxe with Wheels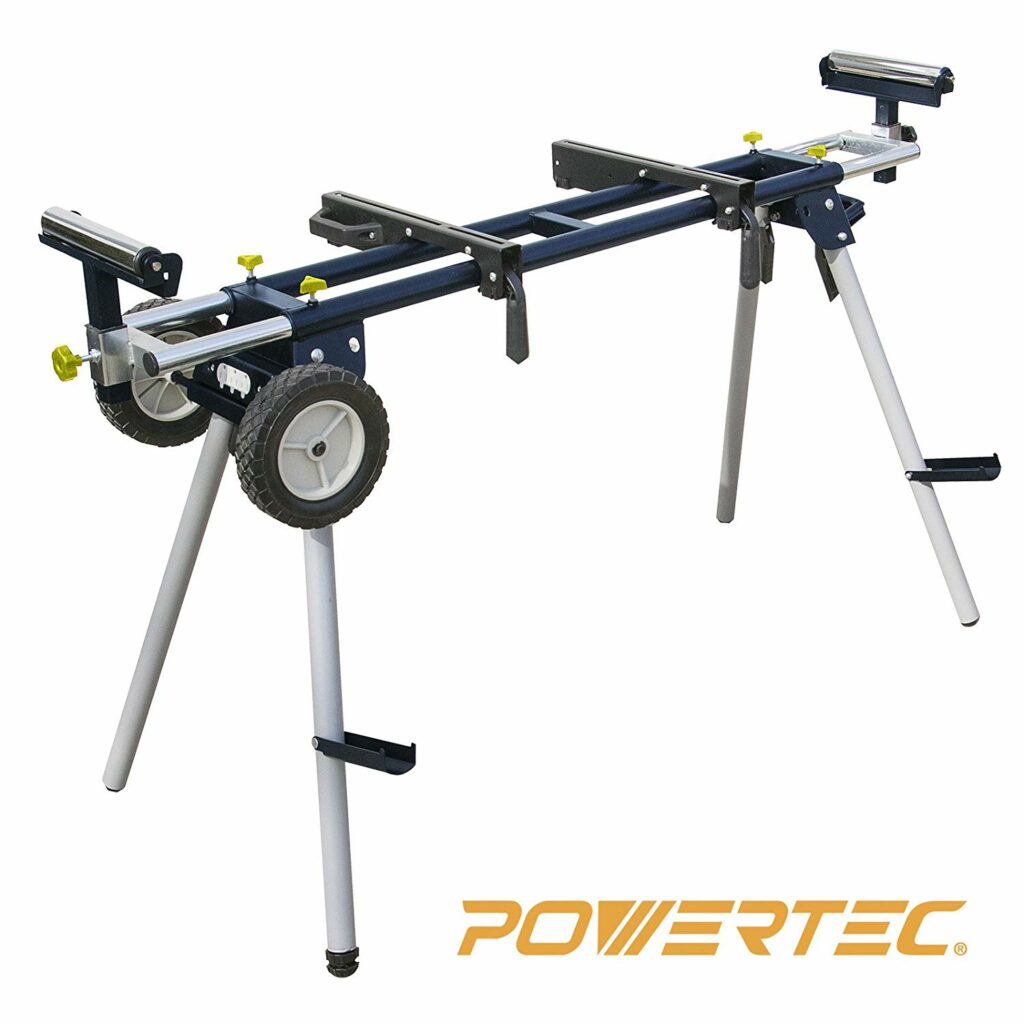 The POWERTEC MT4000 is a portable saw workstation. It is constructed with steel construction tubing and locking steel folding feet, that support up to 330 pounds of weight.
You can mount miter saws, table saw, and planners easily on this stand. It has a convenient 3-outlet power strip so you won't need to sit near a power source.
Check the PowerTec MT4000 Deluxe In-depth Review.
The PowerTec MT4000 can be easily stabilized on an uneven surface with adjustable mounting and adjustable feet leveling.
It has 2 adjustable steel construction rollers that support your workpiece along the stand length accurately.
Main Features of POWERTEC MT4000 Deluxe
It is an innovative mobile saw stand, that is made of round steel construction tubing.

Up to 330 pounds of weight capacity.

It has 8-Inch rubber grip wheels for easy transport.

It is a universal stand. Extension arms extend to 79-1/4-Inch, retract to 46-Inch.

Spring-loaded locking folding legs for easy set-up and break down with universal quick-release mounting brackets.

Two 11-1/2″ steel construction rollers ensure a smooth feed.
POWERTEC MT4000 Deluxe – Pros & Cons
6. WEN MSA330 Collapsible Rolling Stand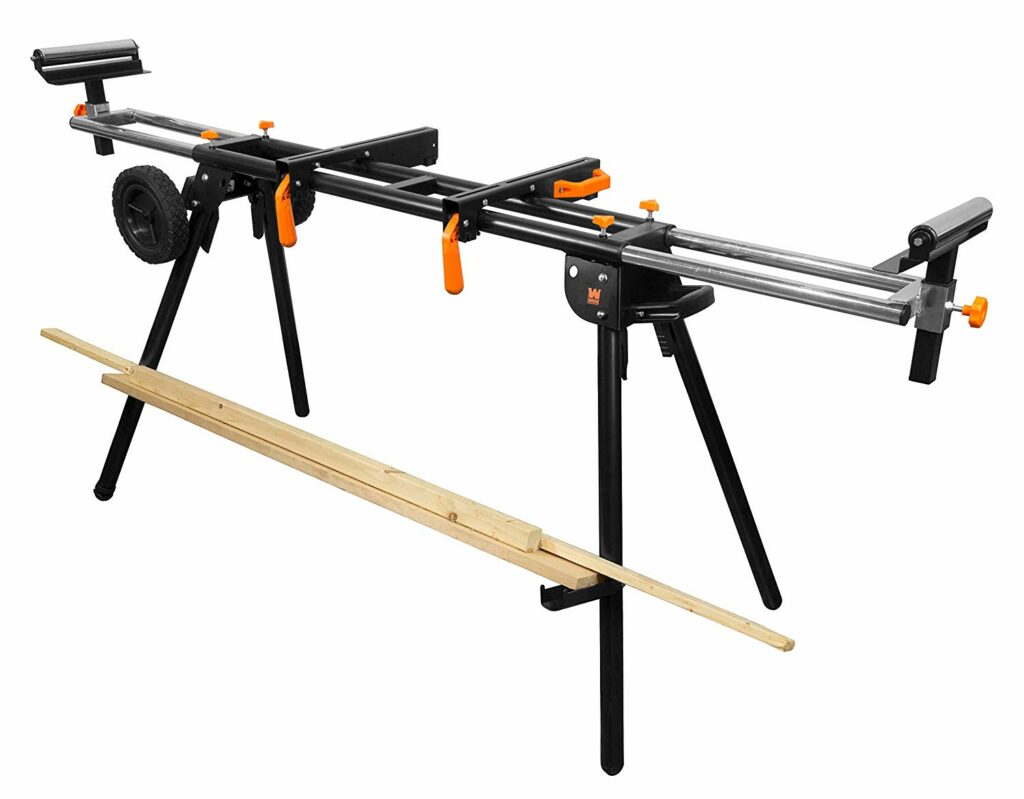 WEN has done a great job constructing this affordable yet powerful stand. The price tag of this stand is much lower than its similar competitors, without compromising the quality.
The WEN MSA330 has a universal design that fits nearly any miter saw. This stand has a 1-1/2-inch diameter steel frame that can withstand up to 330 pounds of weight.
Read the full review about WEN MSA330 Miter Saw stand.
It supports up to 10.5 feet boards. This stand also includes 3 onboard 120V 15A outlets to avoid sitting near a power outlet.
The foldable design and 8-inch never-flat wheels allow it to move around the job site easily.
Main Features of WEN MSA330
It is made of a steel frame.
It has a powder-coated finish to avoid corrosion and make it long-lasting.
It has 2 height-adjustable rollers, 2 table extension arms, and quick-release mounting brackets.
It supports up to 330 pounds of weight and up to 10.5 feet of materials.
It includes 3 on-board 15A outlets.
Foldable and rollable miter saw stand design.
WEN MSA330 – Pros & Cons
7. HICO UWC4000 Heavy Duty Folding Miter Saw Stand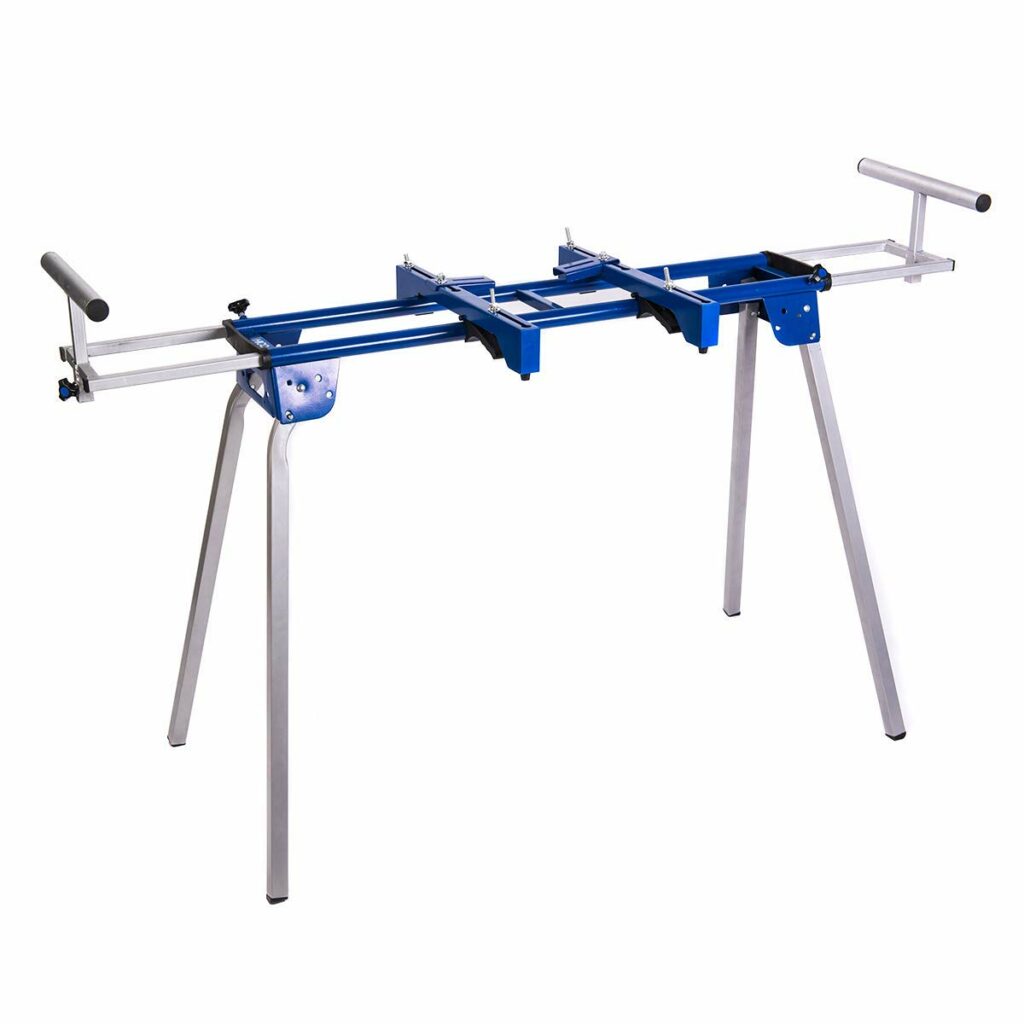 While the HICO UWC4000 miter saw stand has a lower price but it has some very impressive features. It has an affordable price. It has a max weight capacity of 500 pounds while it is incredibly light-weight, i.e. 26.1 pounds only. This saw stand frame is made of stainless steel.
It is a universal miter saw stand design so that almost any brand miter saw can be fitted on it.
Read the full review of HICO UWC4000.
But we have put it in last on our list of the perfect stands. Because the stand design is not that good. The square tube extension arms sliding into round tubes suck. The plastic also breaks if tightens the knobs. Even though this is a very low-cost model, it's not even worth the low price if it can't hold up to even very basic usage.
I hope they fix these design issues. Because it holds it off from being useful.
Main Features of HICO UWC4000
The frame is constructed from tubular steel with a powder-coated finish to avoid corrosion.
It is a lightweight saw stand that can withstand up to 500 pounds of weight.
Universal design makes it compatible with up to 12-inch miter saws, including sliding compound miter saw.
You can quickly mount/unmount miter saw.
It is a foldable and portable miter saw stand.
It is on an ideal ergonomic working height of 35.8 inches.
It has anti-slip leg pads that make extra stability and safety.
HICO UWC4000 – Pros & Cons
Buying Guide
I have mentioned above the "Top Picks, 7 Miter Saw Stands for 2021". But you may not like any one of these. So here are some features that you should keep in mind while judging these stands for you. These are the same functions that we used to compare different miter saw stands and compiled a list of them.
Stand Maximum Weight Capacity
The maximum weight a stand can withstand should be considered when buying a miter saw stand. This value includes the weight of your miter saw as well as the material you'll be cutting through.
If you'll need to cut some trim pieces, the weight should not be your concern. But if you are going to work with large lumbers, you need to consider it. Because, it can add substantial weight.
I am sure, you won't like your stand to collapse under the saw and lumber. As it may damage your saw and may become potentially dangerous.
Check the stand weight capacity and choose the one that has higher than what you intend to use it for. This will give you much more flexibility and peace of mind.
Is your saw compatible with this stand?
It is also important to check if the stand that you are going to buy is compatible with the saw you have. Otherwise, it'll be useless for you.
While most of the stands are universal and will be compatible with almost every type of miter saw. But you should check it as some are only for specific miter saw sizes. So before you buy a stand, you should check if it supports your miter saw size.
BTW, the stands that I mentioned in this guide are all compatible with almost every type of miter saw.
What should be the weight of the stand?
Indeed, heavier stands are often more stable and strong. But it depends whether you need it or not. Most heavier stands have wheels easy mobility.
But if the stand is heavy and it has no wheels, then you'll be carrying that weight in addition to your miter saw. So avoid heavier stands with no wheels.
Height Adjustability
Many miters saw stands are of a fixed height, which is compatible with everyone. But, what if you want your stand to be of the height that is most compatible for you only?
Some miters saw stand models have the height adjustment system in it. So you can set it to the most comfortable height you like.
Folded Size
If you are a professional carpenter who uses the miter saw a lot, then the size of a folded stand won't matter. But most do not use the miter saw quite often, so neither its stand.
When you do not use your miter saw and stand, you'll need to store them. But if your stand does not fold, it'll take quite a lot of space.
So you need to keep this folded size in mind while buying your new miter saw stand. Many stands are foldable, so easy to use, store, and transported. This is also one of the reasons you should not make a heavier and not foldable stand yourself.
Stand Stability
Stand stability is an important factor. No one wants a stand that vibrates, wobbles or jolts. Otherwise, it is more dangerous for you, and your lumbers.
A good stand must be rock-solid. It won't move when the saw kicks on. So make sure you chose a stand that is perfectly leveled and holds steady through any pressure.
Normally a heavier stand, made of stronger materials and has leveling feet for uneven surface, will tend to be more steady.
What should be the Price of a miter saw stand?
The price depends on the stand features you need.
If you are a professional carpenter, using your miter saw a lot, then sure, you should buy an expensive one that has many features. It'll make you more productive and comfortable.
But if you are a DIY creator or hobbyist who uses the miter saw only a few times in a month, then you may not need those extra features. You'll save some bucks on getting a cheaper one.
Because the main function of a stand is just to hold the miter saw tightly, that every stand can do.
Bottom Line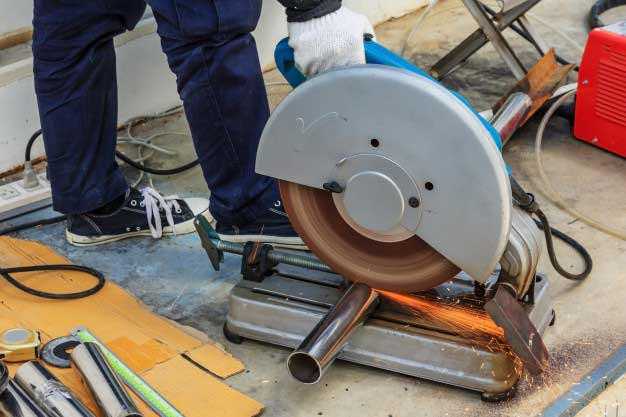 After reading to this point, you'll have a clear idea of what you need in your stand. I think the "Bosch T4B" stand is the best from every aspect. I.e. the best value product, and is incredibly stable, solid build quality, and has up to 18 feet of material support.
The 2nd close to Bosch is "DeWALT (DWX726)" which also has almost the same features but less costly. The DeWALT brand is a well-known brand in the power tool sections. It has some of the most powerful Jigsaws, Miter Saws, Sanders, Table Saws, etc.
If you do not need those fancy features, then the "BORA PM-4000" stand should be your choice. It is only about 26 pounds and has a weight capacity of up to 500 pounds. It is less than half the price of DeWALT. This makes it the 3rd best stand on our list.
The "WEN MSA330" stand is a new one, but it also has many features at a lower price.
If there is something, that I missed in this miter saw stands list, OR you want to give me a suggestion, please let me know in the comments below. It helps us all.

I am the Founder of JigsawExpert. Previously, working in a construction company for about 10 years. Now, I have extensive knowledge and experience. I love in-depth research on Power tools, especially those used for Woodworking and DIY Projects. Because these are what I use a lot. I share my experience with other peoples like you to make the best choice.
Related Articles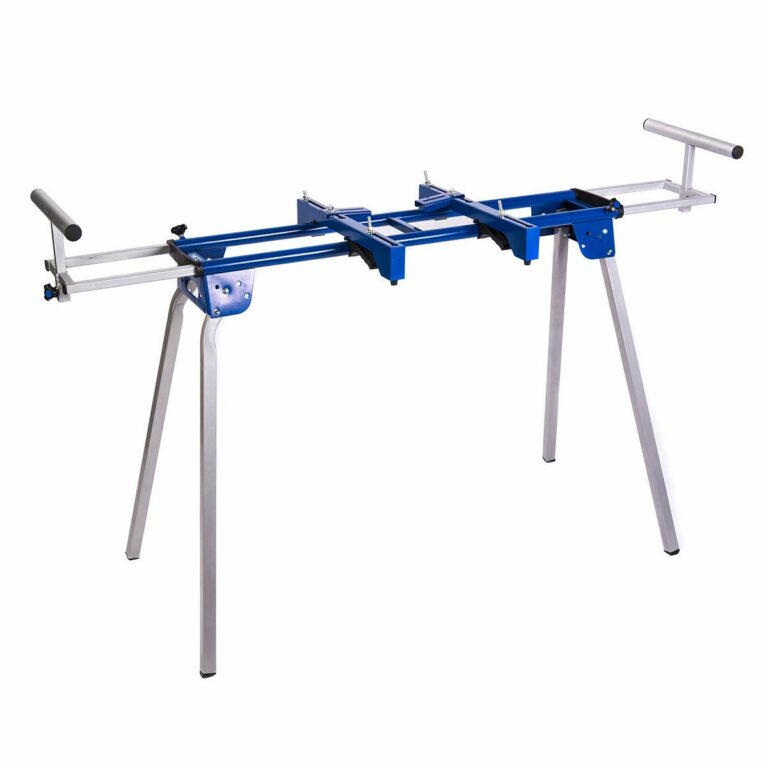 HICO UWC4000 is a simple but impressive miter saw stand. It is very affordable yet…
Last update on 2023-09-24 / Affiliate links / Images from Amazon Product Advertising API. Note: Jigsaw Expert may earn a commission when you buy through links on our site.