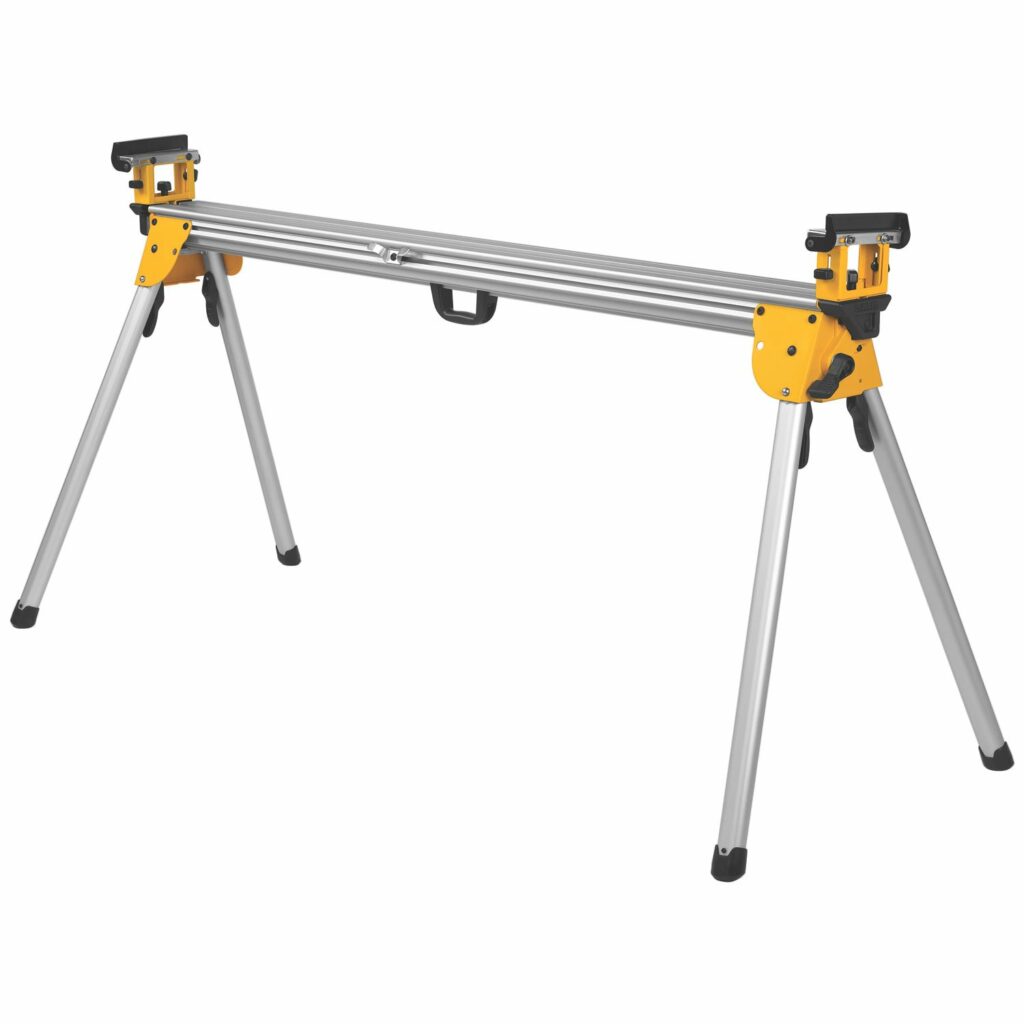 DeWALT, a manufacturer of some of the powerful, durable, and best miter saws in the market, also makes some of the best stands for these power tools.
The DeWALT DWX723 miter saw stand is one of its kind. It is an affordable and powerful stand that sticks to one place.
This stand is basically, made for professionals, who do not require their miter saw to move around but need a heavy-duty stand.
DeWALT DWX723 Stand Strength and Capacity
The DeWALT DWX723 miter saw stand is constructed of lightweight aluminum. It can withstand about 500 lbs of maximum weight without bending. This is enough capacity to hold your miter saw as well as your lumber or other sheet to work on.
The stand weight is about 35 lbs, while the aluminum used in it, weighs about 29 lbs. This is very little and makes it easy to move around if needed.
The Material capacity is 16 feet, which is enough for most professionals, but 2 feet lower if compared to the Bosch T4B stand material capacity, which is up to 18 feet.
It is also the one close to Bosch T4B stand in the best miter saw stands.
Compatibility with other Miter Saws
The DeWALT DWX723 is a universal stand that supports all miter saw brands. I.e. You can mount any brand's miter saw on it easily. It has its own universal mounting system, which makes it possible to adjust its mounting rails and perfectly adapts to any miter saw.
Portability and Wheels
The DWX723 miter saw stand is constructed of light aluminum materials which weigh about 29 lbs only. While the whole stand weight is about 35 lbs. This is little.
This stand is also foldable. So you can pack and transfer to other places easily. You can mount and unmount your miter saw in just minutes.
The DWX723 miter saw stand is designed for those professionals who want to stick it to one place. I.e. So it has no wheels. It has non-marrying feet to avoid tool scratching. If you need wheels for your stand as well, you should check the DWX726 stand, which is all like this stand + wheels.
Main Features of DEWALT DWX723
It supports up to 16 feet of material
It supports up to 500 pounds in weight.
It is a heavy-duty stand.
It is made of lightweight aluminum.
It is a foldable miter saw stand. The folded tool width & Height is 70×6 inches.
It is a universal stand. i.e. You can fit any brand miter saw on it.
Its weight is about 35 lbs only.
Non-marring feet on tool mount will not scratch material.
Leg Lock Levers allow for a fast and easy setup.
DeWALT DWX723 vs DWX726
| Feature | DWX 723 | DWX 726 |
| --- | --- | --- |
| Material Support | 16 feet | 8 feet |
| Maximum Weight | 500 pounds | 300 pound |
| Heavy-duty | Yes | No |
| Stand Weight | 35 pounds | 25 pounds |
| Uneven surface setup | No | Yes |
| Wheels | No | Yes |
Comparison of the Dewalt dwx723 vs Dewalt dwx726 miter saw stands
DEWALT (DWX723) – Pros & Cons
DeWALT DWX723 Miter Saw Stand Video Review + Tutorial
Check out the dwx723 stand video review by "So we bought a house . . ." youtube channel.