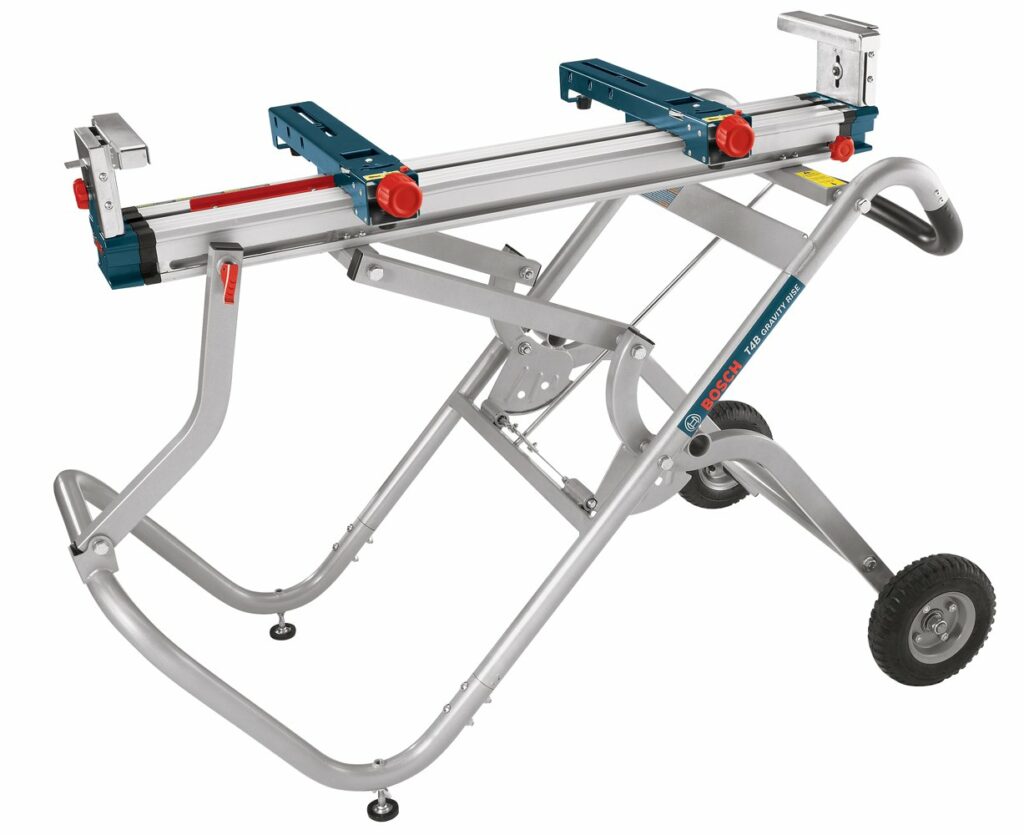 If you are in search of a perfect all-in-one miter saw stand, then, getting the Bosch T4B Gravity-Rise should be your best choice.
Here is why…
The Bosch T4B Gravity-Rise miter saw stand is our best choice of all the best miter saw stands. Because it has excellent features, durability, and perfectly designed for easier handling by any user. Its portability makes it easier to carry anywhere you want even with a mounted miter saw.
Bosch T4B Stand Strength & Support Capacity
The Bosch T4B stand is mostly made of steel. The whole design is very rigid. It weighs about 91.6 lbs. This stand can support the miter saw weight as well as long lumbers weight easily without breaking or bending. So you can work on the stand confidently and same time keeping your wood or other material sheets on the stand.
The maximum material support capacity of the Bosch T4B stand is up to 18 feet. Which is a lot. You may not be able to see this long capacity of any other portable stand in the market. This is unique to the T4B Bosch stand.
Compatibility with different Miter Saws
The Bosch T4B has the Universal Mounting Brackets System. I.e. You can mount any brand miter saw on this stand easily. It has an adjustable outfeed up to 12 inches in height. The mounting system features rapid-release tool mounts.
Stand Portability and Wheels
The Patented, Gravity-Rise system, makes it easily adjustable. It helps in quick and easy setup and break down. This system is available exclusively for "Bosch".
You can pack and take this stand with you anywhere you want. The 8 inches rubber wheels help in easy relocation to different places without unmounted the miter saw.
The adjustable feet make it easy to use and stabilize on uneven surfaces.
Main Features of T4B Bosch
An exclusive "Gravity-Rise System" for quick setup and breakdown.
18 feet in length of material support capacity. (Exclusive).
8-inch rubber wheels for easy transport around Jobsite terrain.
The Universal Mounting Brackets System to mount any competitor miter saw.
Adjustable height infeed and outfeed.
Mostly made of steel for higher strength.
Pros & Cons of T4B Bosch
Bosch T4B Stand Video Review
Have you any miter saw stand? Can you please share your experience with your stand in the comments below. So we learn too.