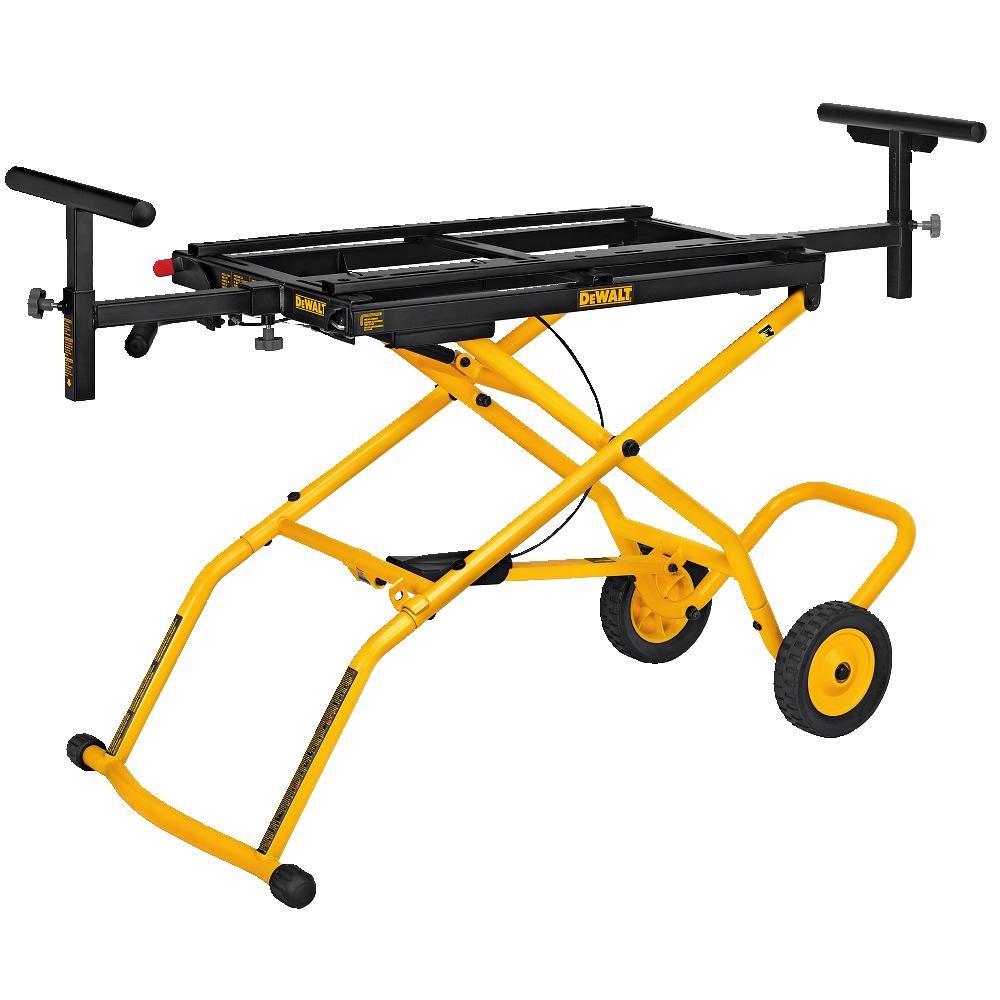 DeWALT is famous for its powerful and durable power tools. They have also made some of the best miter saws in the market. So it is also necessary to make powerful and durable stands for them.
DeWALT has built two famous stands, i.e. The DWX726 (you are currently reading about) and DWX723 (without wheels).
The DeWALT DWX726 rolling miter saw stand has 8″ wheels so you'll be able to move around at the job site. It is powerful, durable, and you can mount any DeWALT miter saw as well as other competitors' miter saws too. It is totally made of steel that can withstand miter saw + other sheets without breaking or bending.
DeWALT DWX726 Stand Strength and Capacity
The whole DeWALT DWX726 miter saw stand is constructed of tubular steel. It can withstand about 300 lbs of maximum weight without bending. This capacity is enough for your miter saw as well as for your sheet to work on. The weight of the whole stand is about 25 lbs only. Which is way less than the Bosch T4B stand.
The Material capacity is a bit lower than T4B Bosch. I.e. It is 8 feet only while the Bosch T4B stand material capacity is up to 18 feet. But this won't bother you if you are working with standard 2 x 4 sheets.
In my opinion, it is the one that is closest to Bosch T4B stand in the best miter saw stands.
Compatibility with other Miter Saws
The DeWALT DWX726 rolling miter saw stand has its own universal mounting system. You can easily mount any DeWALT miter saws as well as other brands' miter saws. Its mounting rails are easy to adjust and perfectly adapts to any miter saw.
Portability and Wheels
The DWX726 miter saw stand has 8″ rubber wheels so you can easily move around on the job site and to longer distances without unmounting your miter saw. Packing and setup are also very easy, i.e. you can literally set it up in minutes.
The good thing about this stand is, that it is a foldable stand. So you can pack it in your truck or car and unfold it whenever you need it. Its weight is only 25 lbs, that's why it is preferable by many professionals.
Main Features of DEWALT (DWX726) Miter Saw Stand
Universal Miter Saw Stand, i.e. All miter saw brands can fit on it.
Wheels to easily move around the job site.
It is a foldable miter saw stand.
Totally made of tubular steel, having up to 300-pounds weight capacity.
It has 3 position pneumatic assisted raising and lowering.
It weighs about 25 pounds only.
Can be fitted on uneven surfaces.
It is very stable, especially on smooth surfaces.
Pros and Cons of DEWALT (DWX726) Miter Saw Stand
DeWALT DWX726 Rolling Miter Saw Stand Video Review + Tutorial
Check the DeWALT Rolling Stand (DWX726) basic tutorial and review.