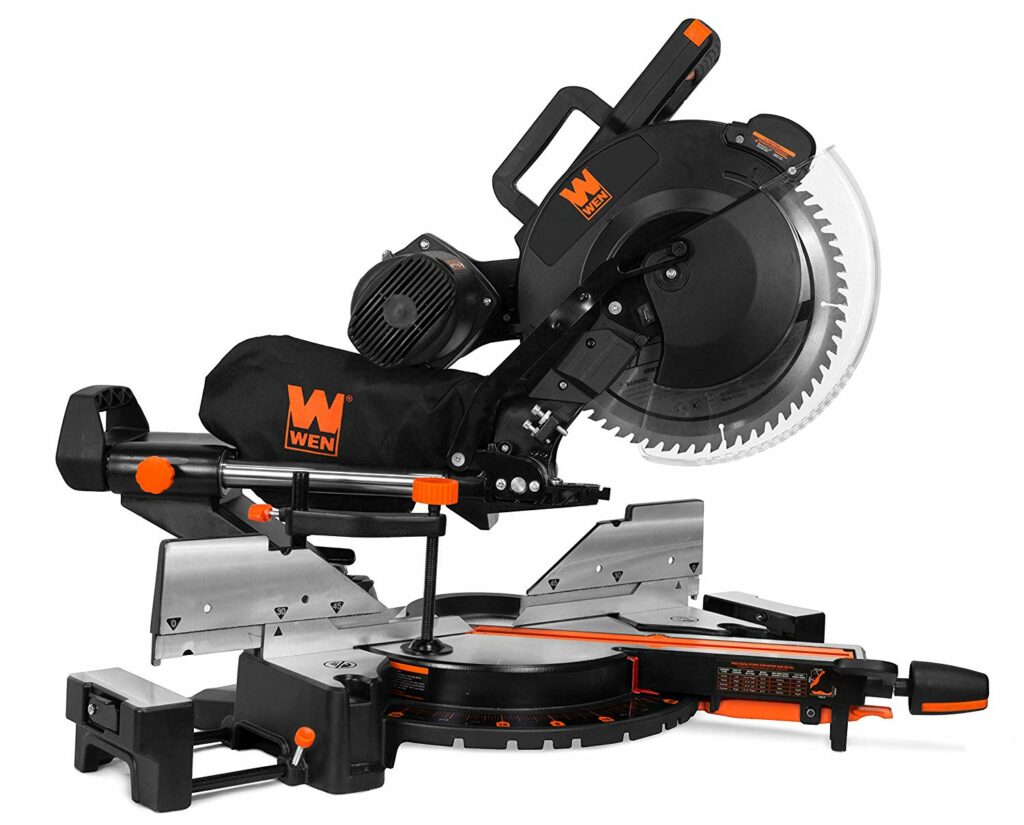 WEN MM1214 is one of the Best Miter Saws for light or occasional uses. You can think of it as best for homeowners and DIY guys. Although it is strong and has been used by many professionals, still it is not as tested as other competitors. But those who tested are satisfied with it.
The WEN MM1214 is a 2019 model and the latest model (2021 model) is WEN MM1214T. The new model has everything that the 2019 model has + some other tweaks to meet the market demand.
WEN MM1214 Performance
The WEN MM1214 Miter Saw has a powerful 15 Amps motor that can produce up to 3,800 RPM speed. It can bevel and miter up to 45 degrees on both sides. The Bevel control is on the front-end which makes it easy to change.
There are 9 commonly used miter stops that it provides. I.e. two at 15 degrees, 22.5 degrees, 30 degrees, 45 degrees and one at 0 degree. But you can fit it on any angle you need.
It comes with a 12-inch 60-tooth carbide-tipped blade having a 1-inch arbor. It includes a class II laser guide for cutline illumination, an LED work light for low light areas, and 2 retractable table extensions.
Cutting Capacity of WEN MM1214
12 inches carbide-tipped blade having 60 teeth.
It can cut up to 13-3/8 inches wide and 3-1/2 inches thick boards
You can make compound cuts of up to 45-degree bevel and miter in boards 9-1/2 inches wide and 2-1/8 inches thick.
The depth of cut at 45 & 90 degrees is 6.75 inches
It has a 7-1/2-inch crown molding nested capacity and a 6-3/4-inch baseboard vertical capacity.

0° Miter, 90° Bevel 3-1/2″ x 13-3/8″

45° Miter, 90° Bevel 3-1/2″ x 9-1/2″
0° Miter, 45° Bevel 2-1/8″ x 13-3/8″
45° Miter, 45° Bevel 2-1/8″ x 9-1/2″
Specifications of WEN MM1214
Model: MM1214
Weight: 65.9 lbs
Dimensions: 37 x 21 x 20 inches
Style/Type of Miter saw: 2019 Model / 12″ Sliding Miter Saw
Building Material: Metal & hard Plastic
Motor: 110V-120V, 60Hz, 15A
Power Source: Cordless Electric
Voltage: 110 Volts
Amperage: 15 Amps
Blade Length: 12 Inches
Arbor Size: 1 inch
Speed: 3800 RPM (no-load speed)
Warranty: 2 years of the limited warranty
Main Features of WEN MM1214
Powerful 15 Amps motor which can spin up to 3800 RPM.
Double Bevel and Double Miter cutting up to 45 degrees on both sides.
Any angle Miter locking ability + 9 Stamped miter stops.
Laser marker to illuminate cutting line, with an LED work light.
Included a dust collection system.
Improved capacity and precision.
Metallic body.
Comes with a heavy-duty 12″ 60T Carbide Blade.
What you get with the WEN MM1214
The following items are included in the box with the purchase of this miter saw.
WEN MM1214 Miter saw
Carbide Blade
Support Stand
10mm/13mm Box-End Wrench and a 6mm Hex Wrench
Carbon Brush Replacement
Clamp Assembly
Dust Collection Bag
User guide.
Pros & Cons of WEN MM1214