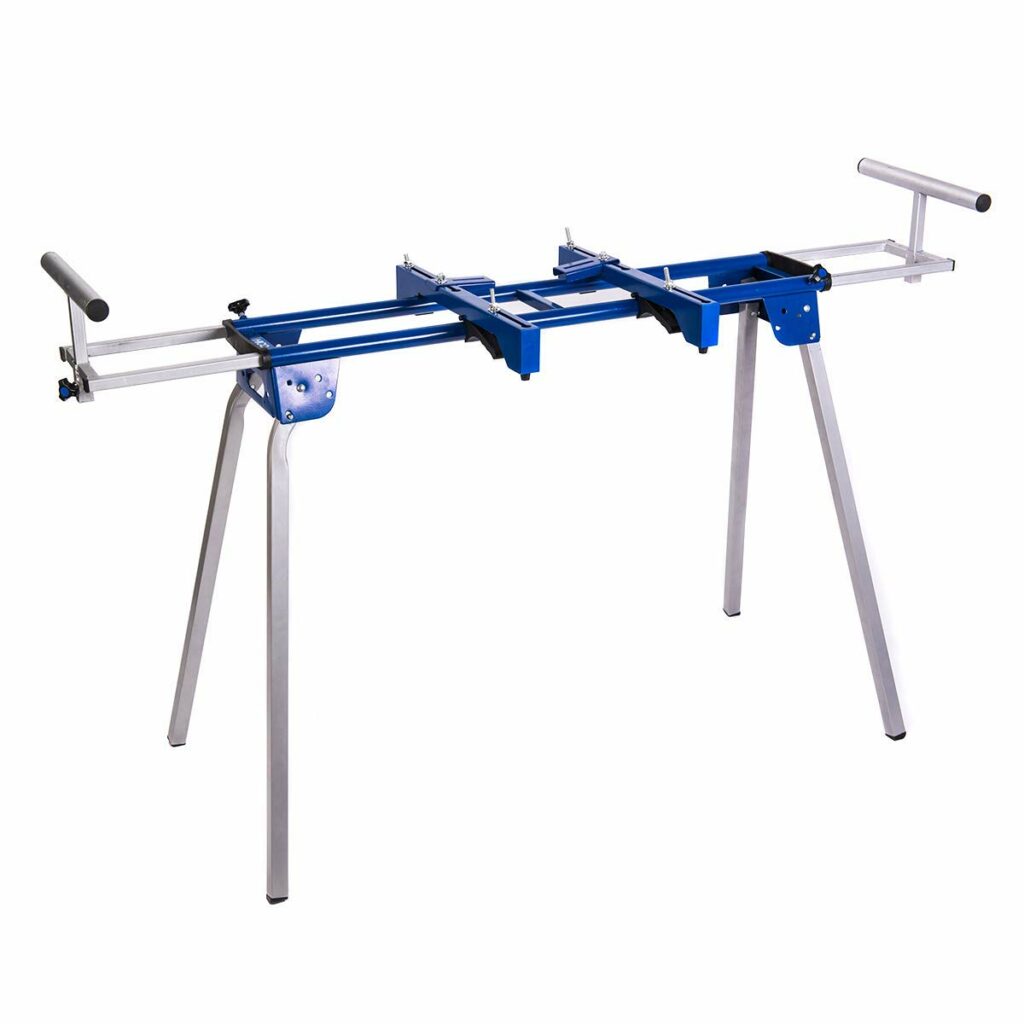 HICO UWC4000 is a simple but impressive miter saw stand. It is very affordable yet full of features.
The frame of this stand is built from stainless steel which can support up to 500 pounds of weight, while still, it is very light weighted, i.e. only 26.1 pounds.
The stand is a universal miter saw stand, and almost any brand miter saw can be fitted on it.
HICO UWC4000 Stand Strength and Capacity
HICO UWC4000 stand is constructed from a stainless steel frame. It can support up to 500 lbs of weight. Which is more than enough for most professionals. The weight of the stand itself is about 26.1 lbs only. Which is a lot less compared to its competitors.
The Material support capacity is 6.75 feet, which is less compared to its competitors but good if working on standard size sheets.
Compatibility with other Miter Saws
The HICO UWC4000 stand supports all brands of miter saws, i.e. 8, 10, and 12 inches as well as sliding compound miter saws.
Its setup and breakdown are easy and quick while mounting and unmounting your miter saw tool can also be done in minutes.
Check the best miter saw for homeowners.
Portability and Wheels
The HICO UWC4000 stand is constructed with lightweight steel construction tubing. Its total weight is about 26.1 pounds. Which is little, and makes it easy to move around.
The stand is very portable. The quick-release brackets allow you to mount and unmount your miter saw in minutes.
The UWC4000 stand is designed for professionals and homeowners alike.
The HICO UWC4000 stand has no wheels to transport. You have to remove your miter saw, fold the stand, and transport by any other mean.
Main Features of HICO UWC4000
Material Supports Capacity is up to 6.75 feet.
Weight Supports capacity is up to 500 lbs.
It is a convenient and heavy-duty stand.
Its height is 35.8 inches.
It is made of stainless steel tubing.
It is a foldable miter saw stand.
It is a universal stand. i.e. You can fit any brand miter saw on its quick-release brackets.
Its extension arms extend to 81 inches.
Weighs about 26.1 pounds.
It has anti-slip leg pads that make extra stability and safety.
HICO UWC4000 – Pros & Cons
HICO UWC4000 Miter Saw Stand Issues
The UWC4000 stand looks good, and very promising. Because it is cheap, but has a lot of features.
But we have put it in last on our list of the perfect miter saw stands. Because the stand design is not that good. They have used square tube extension arms sliding into round tubes, which sucks.
They have used very cheap plastic as it breaks if you tighten the knobs. Even though this is a very low-cost model, it's not even worth the low price if it can't hold up to even very basic usage.
I hope they fix these design issues. Because it holds it off from being useful.
Beside these issues, the stand is very good.