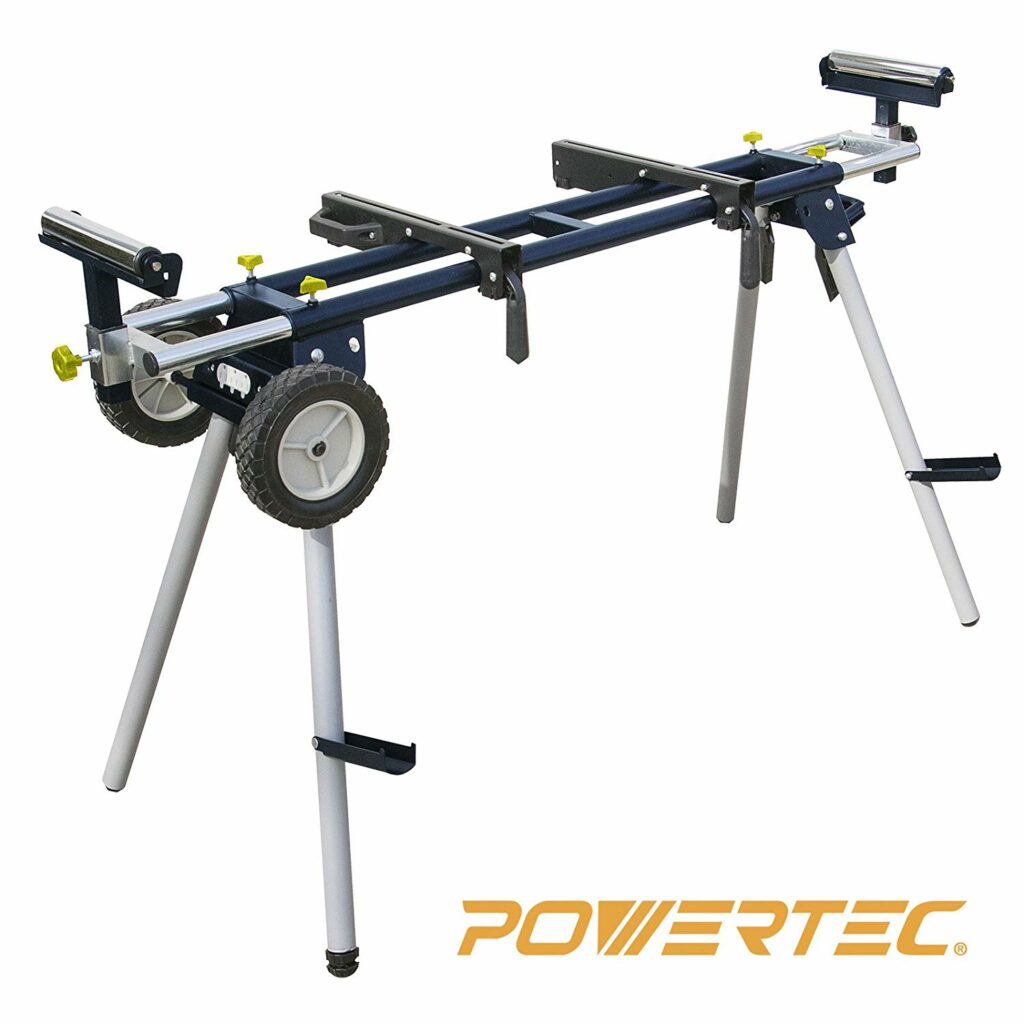 Powertec MT4000 Deluxe is a portable workstation. You can mount a miter saw, table saw, and planner easily on this stand.
It has a convenient 3-outlet power strip so you won't need to sit near a power source. It can be stabilized on uneven surfaces as well.
The stand is portable having about 37 pounds of weight, and it has 2 big rubber wheels for easy transportation.
POWERTEC MT4000 Deluxe Stand Strength and Capacity
It is constructed with steel construction tubing and locking steel folding feet, that support up to 330 pounds of weight. It can hold your miter saw tool as well as your sheet and lumber. Which is enough for many professionals.
The Material support capacity is 6.6 feet which are very little compared to its competitors. But it'll be enough for many people having little sheets requirements.
If you are searching for a stand that is universal, and support miter saw, table saw, and planner, this is the one to choose from the list of best miter saw stands.
Compatibility with other Miter Saws
The Powertec MT4000 Deluxe stand supports all brands of miter saws. It supports up to 12 inches miter saw, including compound and sliding compound.
Setting up this stand is easy and quick. You can mount and unmount your tools in minutes.
Portability and Wheels
The Powertech MT4000 Deluxe stand is constructed with steel construction tubing and locking steel folding feet. Its total weight is about 37 pounds. Which is little, and makes it easy to move around.
The stand is very portable. You can fold/unfold it and mount/unmount your miter saw in minutes. It comes with 8 inches rubber wheels to make it easier to transport to other places.
The MT4000 stand is designed for professionals. It has a built-in 3 outlet power strip as well. Which will make you able to not stick to a wall outlet.
The PowerTec MT4000 can be easily stabilized on an uneven surface with adjustable mounting and adjustable feet leveling.
It has 2 adjustable steel construction rollers that support your workpiece along the stand length accurately.
Main Features of POWERTEC MT4000 Deluxe
Material Supports Capacity is up to 6.6 feet.
Weight Supports capacity is up to 330 lbs.
It is a convenient and heavy-duty stand.
It is made of steel tubing and locking steel folding feet.
It is a foldable miter saw stand.
It is a universal stand. i.e. You can fit any brand miter saw on it.
Its extension arms extend to 79-1/4-Inch, retract to 46-Inch.
It has 8-Inch rubber grip wheels for easy transportation.
Its weight is about 37 pounds.
Spring-loaded locking folding legs for easy set-up and break down with universal quick-release mounting brackets.
Two 11-1/2″ steel construction rollers ensure a smooth feed.
PowerTec MT4000 Deluxe – Pros & Cons
POWERTEC MT4000 Deluxe Miter Saw Stand Video Review + Tutorial
Check out the MT4000 Deluxe stand video review and usage and assembly tutorial.