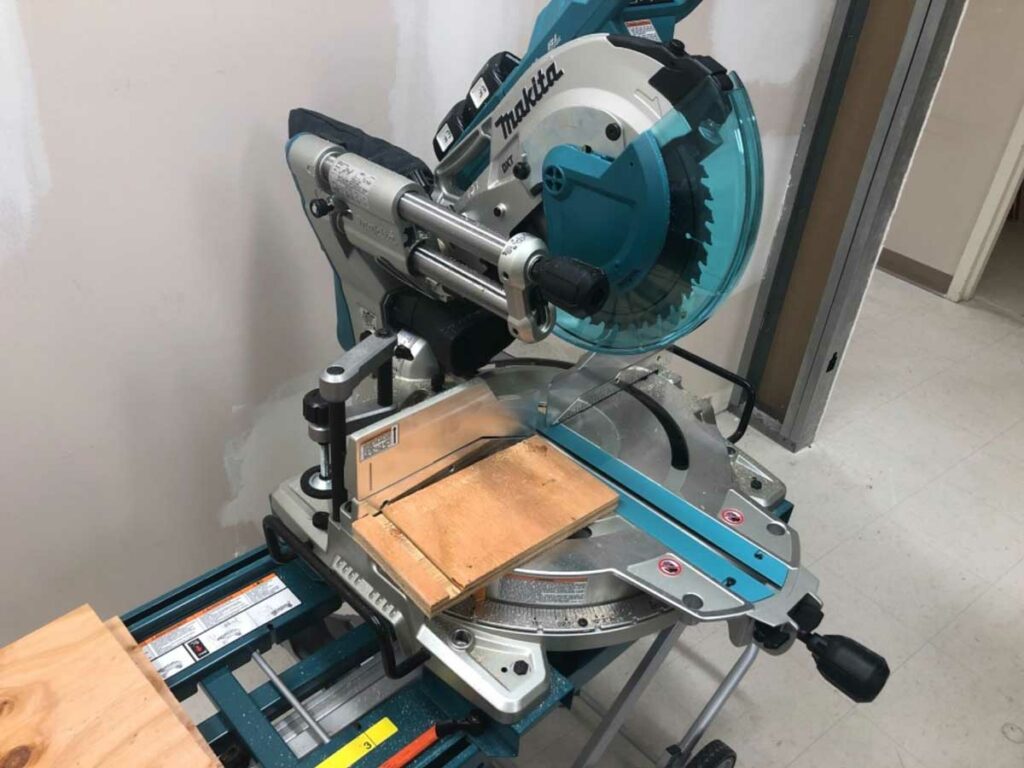 The Makita XSL06PT is one of the best cordless Mitre Saw that runs on batteries' power. It is portable, and best suited for homeowners, DIY creators, and especially for those carpenters working outdoors.
The durability and power are also good enough. It has a 10″ saw blade, which is a bit smaller than DEWALT DWS779 Miter saw. But it has more interesting features, that make it a perfect miter saw for homeowners.
Makita XSL06PT Performance
Makita XSL06PT Mitre Saw has a brushless motor, that can deliver up to 4,400 RPM of speed. Its speed is electronically controlled. Another benefit is that it removes the need for replacing carbon brushes. It makes it cooler, durable, and efficient for a longer time.
Makita has integrated an automatic speed and torque control technology which improves its performance during cutting. The Makita XSL06PT sliding compound miter saw comes with 2 LXT technology, 5.0 Ah batteries. It delivers up to 334 cuts per charge cycle in 2×4 SPF and up to 192 cuts per charge in 2×12 SPF lumber.
Makita XSL06PT Specifications
Model: XSL06PT
Product Weight: 80.5 lbs (with batteries and shipping box)
Product Weight with just batteries: ~ 60 lbs
Product Dimensions: 22.44 x 32.68 x 21.65 inches
Batteries: 2 Lithium-ion batteries required. (included)
Power Source: Battery Powered (Cordless)
Voltage: 36 Volts (18 + 18)
Wattage: 90 watts
Motor Speed: 4400 RPM
Warranty: 3 years limited warranty on tool, battery, and charger
Cutting Capacity of Makita XSL06PT, and XSL06Z
Blade Diameter: 10 inches
Arbor: 5/8″
Max. Crown Molding (Nested): 6-5/8″
Max. Base Molding (Vertical): 5-1/4″
Max. Miter 90°: 2-13/16″ x 12″
Max. Miter 45°, both Left and Right: 2-13/16″ x 8-1/2″
No Load Speed: 4,400 RPM
Max 334 cuts per charge in 2×4 SPF
Max 192 cuts per charge in 2×12 SPF lumber
Miters 0-60°, bevels 0-48° left and right
Positive miter stops at 0°, 15°, 22.5°, 31.6°, 45°, and 60° left or right
What's included with the Purchase
The following items are included in the box with the purchase of this saw tool kit.
36V, BL, 10″ Dual-Bevel Slide Compound Miter Saw (XSL06Z)
Vertical Vise (122854-6) – For clamping material to the base.
Hex Wrench – For installing and removing blades.
18V LXT® Lithium-Ion Dual Port Charger (DC18RD)
(2) high power 18V LXT® Lithium-Ion 5.0Ah Batteries (BL1850B)
Triangular Rule (762001-3) – For squaring blades or fence
Dust Bag (122852-0)
10″ x 5/8″ 40T Micro-Polished Miter Saw Blade
The XSL06PT is actually the same model saw as the XSL06Z. But the XSL06PT comes with Batteries and a Dual Port Charger
Main Features of Makita XSL06PT
It's a Cordless Miter Saw, i.e. Powered by batteries.
It has better performance, speed, and durability.
Electronically-controlled brushless motor delivers up to 4,400 RPM for smooth cutting.
It has a Dual-Bevel cutting ability up to 48 degrees.
It has double dust collection ports for increased dust extraction.
Linear ball bearing system for delivering accurate cuts.
Its large aluminum base improves the stability of the material and provides efficient cutting.
It has an electric brake for maximum productivity.
It has a direct drive gearbox for increased cutting efficiency and reduced maintenance.
It starts softly which suppresses start-up reaction and provides smooth start-ups and longer gear life.
It has an in-front bevel lock for convenience.
It has an easy one-touch slide lock for convenient operations.
Makita XSL06PT Problems
Makita XSL06PT provides many features but you may also face some problems, just like many other miter saw brands. Although it is also possible that you won't face any of them. But it is necessary to mention the known ones here. The ones that users have faced are mentioned here.
BTW, you should always contact Makita Support for any problem with the tool.
Alignment issues, especially in curved cut
This is probably the only issue that some Makita units have. When you get your Makita XSL06PT unit, don't forget to check it for major alignment problems. Some units are reported that if the XSL06PT Makita Mitre Saw blade is fully extended on the rails it overlaps the square by 1/16″ or so.
It shows that the rails are out of alignment. The rails are actually twisted that is why in the retracted mode, it cuts perfect square, while if the saw head is extended, the twist throws the blade out about 1/16″.
This issue can be fixed by manually adjusting the rails bolts on the end of the slider assembly. But I'd recommend you contact the Makita Support Center. OR check the videos on YouTube for fixing this.
Other issues
If you find out that your miter saw unit doesn't turn freely. I.e. You face difficulties while making angle cuts, pulling the saw head, or changing angles, etc. You should contact the support center right away, and better ask for a replacement. This issue may make it worn out quickly.
If you find any other issue, please share with us in the comments as well.
Pros & Cons of Makita XSL06PT
Makita XSL06PT Video Review