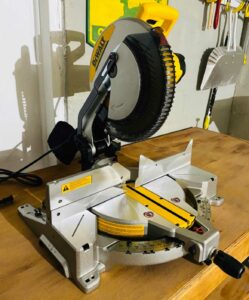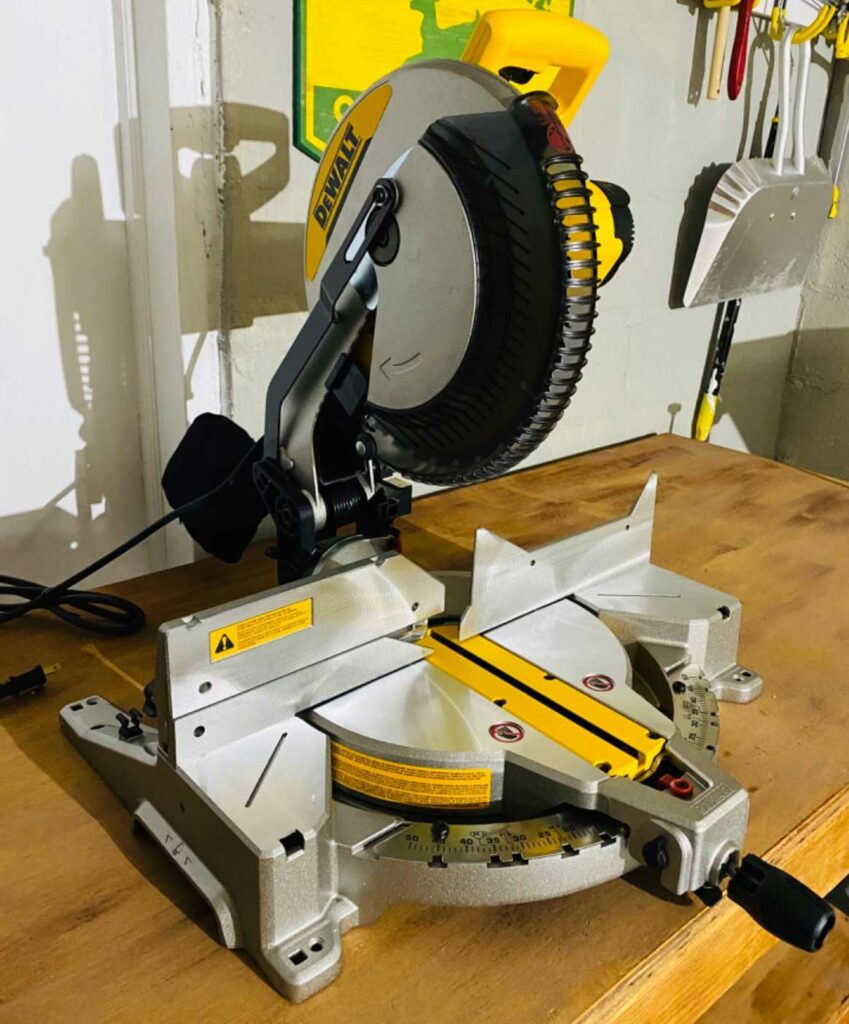 DeWALT is a leading brand of quality power tools.
It is loved and trusted by both the handymen and the contractors. The reason for the trust is its good quality and durability.
The DeWALT DWS779 is one of the best miter saws because of its quality, durability, and user reviews. Otherwise, I'd had listed DeWALT DWS780 Mitre Saw on its place, which is a new model of the same series, with more features, but with a little less satisfied users.
There is not much difference between DeWALT DWS779 and DeWALT DWS780. The DeWALT DWS779 is like the DeWalt DWS780 but without the XPS lighting system.
The DeWALT DWS779 – 12-inch, sliding compound Miter Saw is one of the Best Miter Saw for homeowners, DIY creators, and professionals alike, in the market right now.
DeWALT DWS779 Performance
DEWALT DWS779 has a powerful 15-Amp motor that can spin up to 3,800 RPM in a no-load condition. It has a soft-starting feature. This means the motor starts slowly and then speeds up in a matter of seconds. This feature saves you and the miter saw itself. The main culprit during starting miter saw is huge inrush currents (Amps). A soft starter aims to minimize the impact of the inrush current on the motor when it's started.
It has an exclusive back fence design that can cut up to 2×16 dimensional lumber at 90 degrees and 2×12 lumber at 45 degrees. It comes with the heavy-duty 12″ Carbide Blade.
The DWS779 has an in-built precise cut-line Blade Positioning System to help adjustment-free cut-line indications. If you need you can also fit an LED light to lighten the exact cut-line. It also has a handle for easy portability on the job site.
The DWS779 is a corded miter saw. So you'll get the most out of your miter saw because it'll be attached to a power source and have enough energy it needs.
Main Features of DeWALT DWS779 – 12″ Miter Saw
It has a powerful 15 Amps motor that produces up to 3,800 RPM speed.
Exclusive back fence design for large lumber and miter/bevel cuts.
It has an integrated super efficient dust collecting system that cleans the cutting area.
It has a double bevel cutting ability, i.e. up to 49 degrees on each side.
It can easily be adjusted with the Cam Lock Miter Handle with detent override to deliver quick and accurate miter angles.
Full metallic body.
It comes with a heavy-duty 12″ Carbide Blade for many applications.
It has dual horizontal steel rails with an advanced clamping system and linear ball bearings.
Precise miter system and machined base fence support optimized durability and cutting accuracy.
Its oversized bevel scale makes bevel angle adjustments accurate and easier.
Innovative gearbox and belt-drive design increase its vertical cutting capacity.
Improved capacity and precision.
Spindle Lock included
Cutting Capacity of the DeWALT DWS779
12 inches Miter Saw Blade
Bevel cutting ability up to 49 degrees on both sides
Miter 60 degrees to the right and 50 degrees to the left.
It can cuts up to 2×16 dimensional lumber at 90° and 2×12 at 45°
The depth of cut at 90 degrees is 6.75 inches
The depth of cut at 45 degrees is 6.75 inches
Specifications of DeWALT DWS779
Model: DWS779
Weight: 56 lbs
Dimensions: 21 x 17 x 17 inches
Product Color: Silver Miter saw
Style/Type of Miter saw: 12″ Sliding Miter Saw
Building Material: Metal
Power Source: Corded Electric
Voltage: 110 Volts
Amperage: 15 Amps
Blade Length: 12 Inches
Arbor Size: 5/8″ or 1″
Speed: 3800 RPM (it is usually no-load speed)
Warranty: 3 years of limited warranty + 90 days money back warranty
What you get with the DeWALT DWS779
The following items are included in the box with the purchase of this miter saw.
DeWALT DWS779 Miter saw
Carbide Blade
Blade Wrench
User guide.
DEWALT DWS779 – 12″ Miter Saw Pros & Cons
Video Review
FAQs
Is DeWALT DWS779 discontinued?
No, DeWALT DWS779 is not discontinued by the manufacturer. Another upgraded version DeWALT DWS780 was manufactured with some additional features. But it doesn't replace it.
DeWALT DWS779 vs DWS780 Miter Saw
They are actually very similar. The only noticeable difference between DWS779 and DWS780 is that the latter has a new XPS positioning system and a higher tool price. But that laser system can also be integrated with the DWS779 miter saw for about $70.
Does the DeWalt dws779 have a laser?
No, the DWS779 model does not have any laser guide. But it comes with an integrated Cutline Blade Positioning System. The laser guide can be integrated with this model for about $70.
What is the recommended voltage capacity?
The Dewalt DWS779 operates at 110V 60Hz and plugs into a traditional wall outlet or power generator receptacle.
Does the DeWalt dws779 come with a blade?
Yes, it comes with a 12″ Carbide Blade. It's a decent-quality blade, suitable for general construction.
What is DeWalt XPS system?
XPS light system from DeWalt is basically LED lights to project light down on either side of the blade. It creates a shadow of the blade in the work area. As the blade lowers, the shadow sharpens, darkens, and shows exactly how wide the cut will be once it's made.
Which DeWalt miter saw to buy?
In our experience and research, the DeWALT DWS779 miter saw is rigidly made, having many features, portable, and durable. It has got over 8,000 positive reviews. Which is way more than other competitors. Check out our in-depth DeWalt dws779 review.