Tacklife EMS01A sliding compound miter saw is probably the only Miter Saw having dual speeds. The speed of its powerful motor is controlled by a simple button. It is one of the newly released models. Its safe iron made shield protects the blade teeth. It weighs only 31.5 pounds, and it's portable so you can move around at the workplace easily. Its maximum power usage is 2000 watts. This miter saw is made up of Aluminum.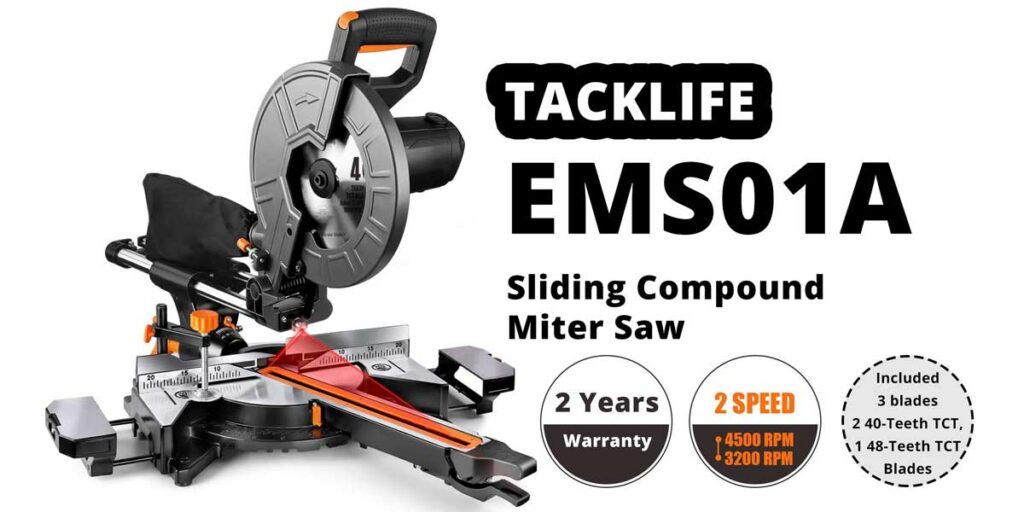 The TackLife EMS01A has a powerful motor that can produce up to 3,200 RPM and 4,500 RPM speed controlled by a simple switch of a button. This allows a precise and smooth cutting experience. When you need to cut wood, use the high-speed setting, while for metal cutting, use the low-speed setting.
It has double miter cuts and double bevel cutting ability, up to 45 degrees. It includes a laser guide to illuminate the exact cutting line.
The Tacklife EMS01A Miter Saw takes 10″ blades. 3 blades are already included with the package. 2 blades – 10″ 40T TCT Blades, for materials like wood and plastic cutting, i.e. it is for soft materials. While the 3rd one – 10″ 48T TCT Blade, is for hard materials like metal sheets. The 3rd blade is multifunctional and versatile use.
For extra safety, it also features a solid iron made Self-retracting saw shield that covers the cutting blade. The shield also helps protect blade teeth.
TACKLIFE EMS01A Specifications
Model: EMS01A
Weight: 31.5 lbs
Dimensions: 30.7 x 22.8 x 17.7 inches
Size: 10 inches
Type: Sliding Compound
Power Source: Corded Electric
Voltage: 120 Volts
Amperage: 15 Amps
Speed: 3200 RPM + 4500 RPM (Dual Speed)
Main Features of TACKLIFE EMS01A – 10″, Double Speed, Sliding Compound Miter Saw
Features a powerful 15 Amps motor having 2-speed settings – 3,200 RPM and 4,500 RPM, controlled by a simple button.
Features a built-in Laser Guide to lit the exact cutline.
Features an Iron Blade Guard that covers the outside of the Blade for extra safety. It is a self-retracting saw shield.
Included a chip bag for dust collection.
The extended platform helps to mount on a large miter saw stands.
It features a soft start function which makes the miter saw to reach its maximum speed in about 2 seconds.
TACKLIFE EMS01A – Sliding Compound Miter Saw, Pros & Cons
TACKLIFE EMS01A Video Review
Final words about TACKLIFE EMS01A Sliding Miter Saw (Review)
Overall the TACKLIFE EMS01A sliding compound miter saw has many features including its power, durability, and portability.
This sliding compound miter saw is made by TACKLIFE. It costs No products found. on Amazon.com. In our list of the 10 Best Miter Saws, It's ranked #7. We surely recommend this product for all, especially for the homeowners and DIY geeks.
No products found.
Last update on 2023-12-06 / Affiliate links / Images from Amazon Product Advertising API. Note: Jigsaw Expert may earn a commission when you buy through links on our site.