The main reason for buying a jigsaw is to get rid of a lot of woodwork. However, they can be used for cutting many other materials like steel or plastic.
In today's article, you are going to learn about the Top 5 Best Woodworking Jigsaws.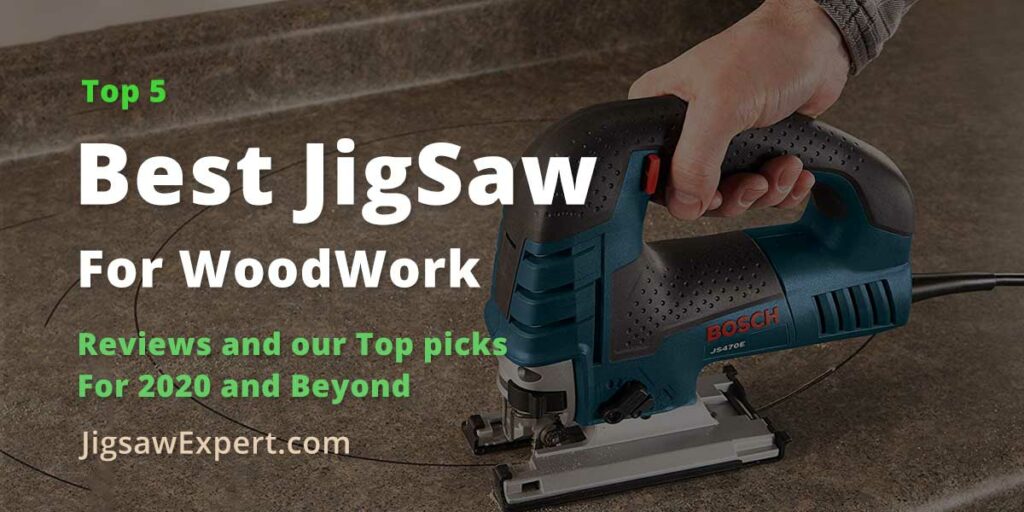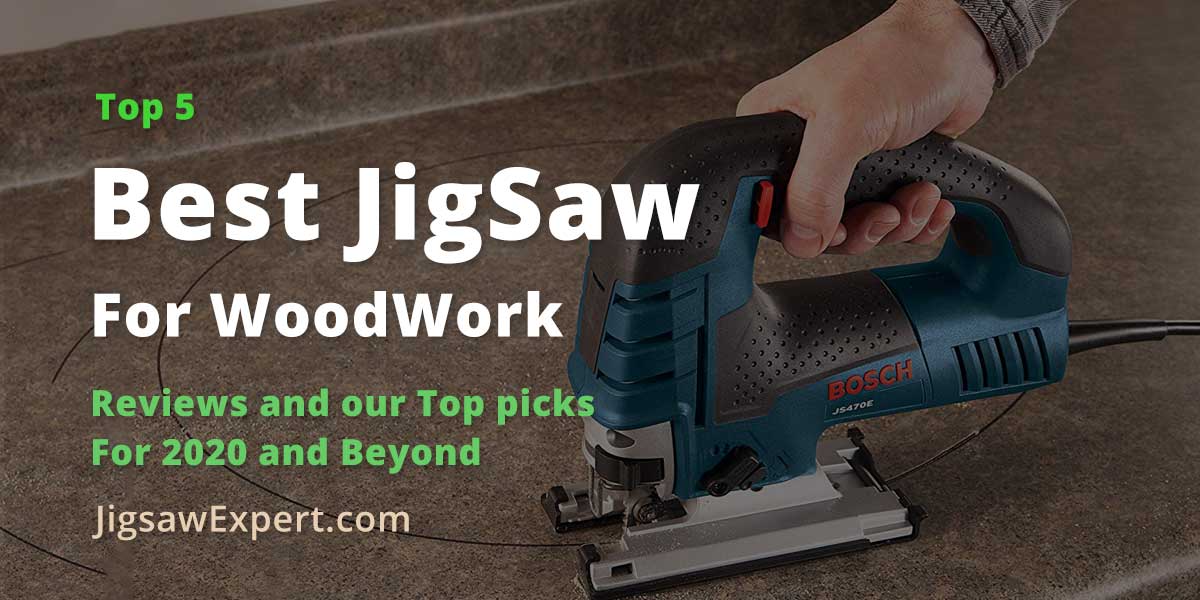 You should know that for any type of woodworking, a jigsaw motor capable of providing 2500 to 3000 strokes per minute, paired with a dust blower to get rid of wood remains and a couple of bevel cutting angles is more than enough.
Let's review them to help you get the one best suited for you.
Best Woodworking Jigsaw Reviews and Comparison
| # | Preview | Product | Rating | Price | |
| --- | --- | --- | --- | --- | --- |
| 1 | | | | | |
| 2 | | | | $99.00 | |
| 3 | | | | $64.99 | |
| 4 | | | | $29.99 | |
| 5 | | | | | |
1 – Bosch JS470E Corded Top-Handle Jigsaw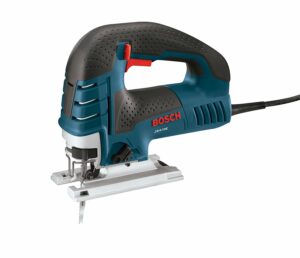 Bosch is the best brand with manufacturing top-quality woodworking products. That's why I have picked Bosch JS470E Corded Top-Handle Jigsaw as my first pick, and it is a complete package ranging from woodworking to various other jigsaw jobs.
This jigsaw having a high powered 7.0 amp motor having the capability of producing more than 3,000 strokes per minute (SPM). It can cut through wood up to 5-7/8 inches, through aluminum up to 7/8 inches and through mild steel up to 3/8 inches.
With being so powerful, it is also quite easy to use for both beginners and professionals. If you want to change a blade you don't need to have a tool to do this because it has a tool-less blade change system, with a blade ejection lever that eliminates to touch the saw blade.
It has four orbital action and four bevel cutting options with a dust blower to have a clearer view of the cut. It has the ability of 45-degree bevel cutting.
Bosch JS470E Main Features:
Keyless blade clamp which helps blade changing without any tool.
Speed dialer for setting the desired top speed.
An accelerator trigger to control operating speed.
The on-board bevel wrench and a large footplate with steel insert for more security.
Accurate and low-vibration.
Bosch JS470E – Pros & Cons
2 – DEWALT DCS331B 20-Volt MAX Li-Ion Jigsaw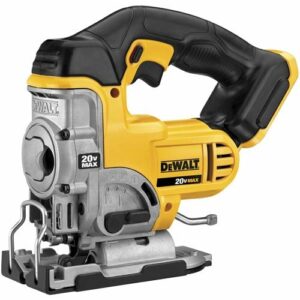 This jigsaw is cordless and my 2nd pick for the list. The manufacturers don't give the charger and battery alongside the jigsaw so you have to purchase it separately, yeah it's a nightmare but sometimes quality work demands that.
The features include a key-less clamp for easy removal and replacement of the blades. 4-position orbital action, All-metal key-less shoe bevel. As it is cordless and lightweight, it provides amazing portability.
DEWALT DCS331B Main Features:
Got a powerful 20 volts Li-ion battery for long-lasting.
It has an ergonomic handle that provides a powerful grip for working.
With its orbital and bevel options, you can make different designs.
Better jigsaw for making straight designs.
DEWALT DCS331B – Pros & Cons
3 – PORTER-CABLE PCE345 6-Amp Orbital Jigsaw: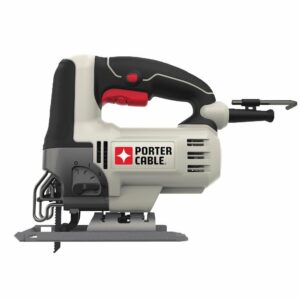 It's a multitasking jigsaw and my 3rd pick for the list, it is best for those people who need to cut through wood, PVC, plastic or steel. This jigsaw is very powerful for woodworking with the ability to provide 3,200 strokes per minute.
This jigsaw is the best under 100 jigsaw which is quite amazing, as it provides a high power and premium features.
As compare to Bosch jigsaws, it is not much durable, but it does the job.
PORTER-CABLE PCE345 Main Features:
Lock-on trigger for continuous work.
With its 6-amp motor now enjoy the speed up to 3,200 SPM.
Keyless blade clamp which helps blade changing without any tool.
With 4-position orbital action now cut multiple materials easily.
PORTER-CABLE PCE345 – Pros & Cons
4 – BLACK + DECKER BDEJS300C Jigsaw: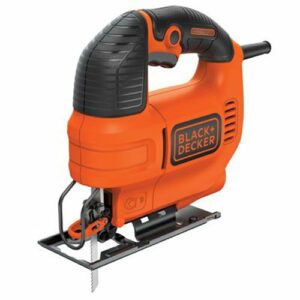 This Black and Decker Jigsaw is my 4th pick for the list. It has a motor of only 4.5 amp but is more efficient as it can provide a speed of up to 3,000 SPM. This makes it an affordable and perfect item.
New Wire Guard Sightline channel provides a clean view of the cutline while working. And with the tilting base plate now you can control bevel angles cut better. You can cut up to 45 degrees of bevel angle cut. A dust blower that helps to keep dust out of your work area.
BLACK + DECKER BDEJS300C Main Features:
Dust Blower + Wire Guard provides a clean sight while working.
With the tilting base plate now bevel cutting is easier.
Even with its low amp motor, you get a high speed of 3,000 SPM.
BLACK + DECKER BDEJS300C – Pros & Cons
5 – SKIL 4230-01 3.2 Amp Single Speed Jigsaw: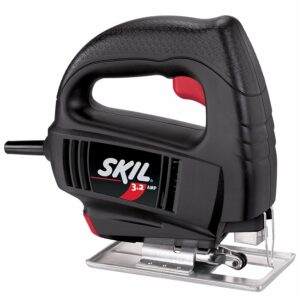 A low-budget product and my 5th and last pick for the list. Even though it only got a 3.2 amp motor still you can get your job done with it either it is straight or curved cuts. it provides 3250 SPM which is quite amazing for this low power motor.
It got onboard blade storage making it portable, not compromising the lightweight of the machine. With its tilting footplate, you can cut about 45 degrees bevel cut. It can cut through several materials.
SKIL 4230-01 Main Features:
It got a lengthy cord ideal for getting power from a distance.
Tilting footplate with 45 degrees bevel cut
It can cut straight and curved in various materials
A perfect option for people with low budget
SKIL 4230-01 – Pros & Cons
Which Jigsaw Should You Choose?
There are many jigsaws out there for multitasking, however, if you want it for wood and other materials, I recommend the "Bosch JS470E". It is powerful as well as durable, backed by many reviews. OR choose another one from our Best Woodworking Jigsaw list starting from the top.
If you are low on budget, Read our Best Budget Jigsaws article.
Please let me know your experience in the comments below, so others like you may learn a little more.
About the Author

I am the Founder of JigsawExpert. Previously, working in a construction company for about 10 years. Now, I have extensive knowledge and experience. I love in-depth research on Power tools, especially those used for Woodworking and DIY Projects. Because these are what I use a lot. I share my experience with other peoples like you to make the best choice.
Related Articles
Last update on 2023-12-04 / Affiliate links / Images from Amazon Product Advertising API. Note: Jigsaw Expert may earn a commission when you buy through links on our site.